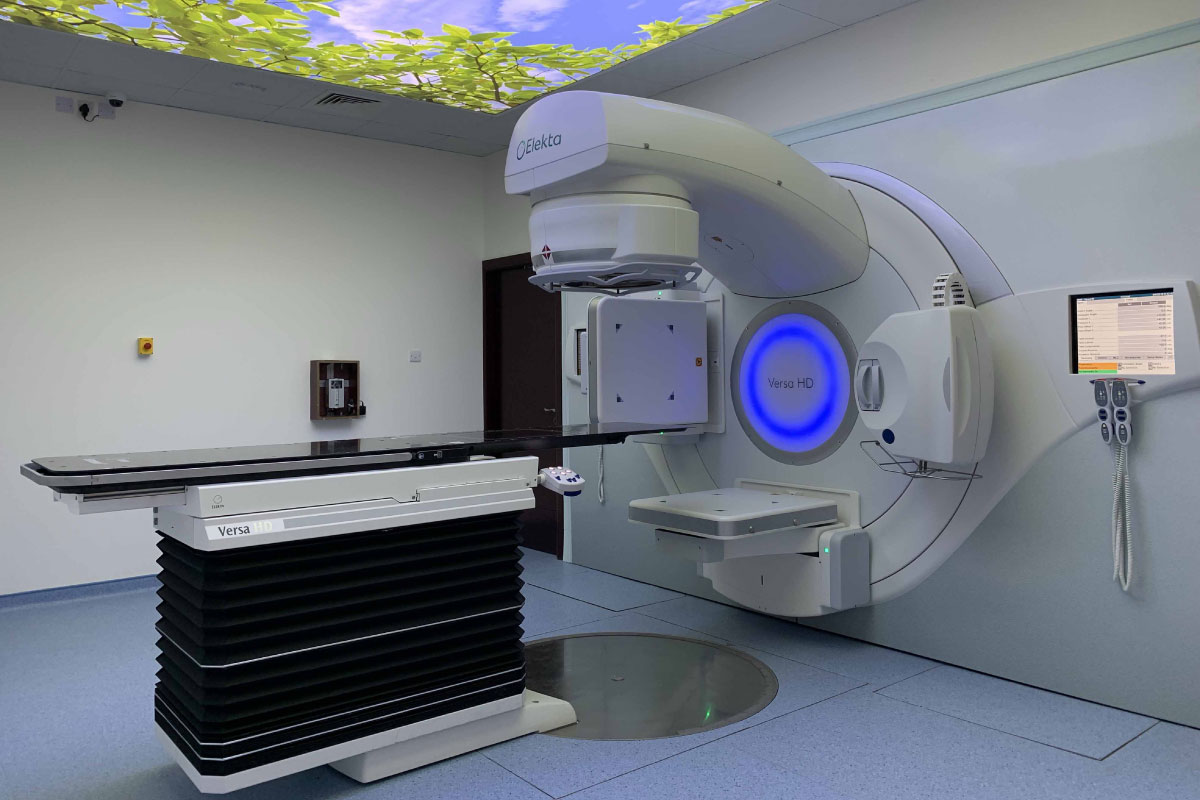 Radiotherapy
State of the art Radiation Oncology Centre operated by a world class team following international protocols for quality assurance, patient care, treatment and follow up. The cases are discussed by super specialised MULTIDISCIPLINARY TEAM in tumor boards and clinics including Radiologist, Nuclear medicine Physicians, Pathologist, Medical oncologist, sub speciality Surgical oncologist, Supportive team and Molecular genetics team. This team meets on regular basis to discuss all oncology cases to provide the patient with the international standard, state of the art care.
What is radiation?
Radiation is energy moving from one place to another. The energy may move through waves or particles. High-energy radiation, like x-rays, can change or destroy cells. Radiation therapy uses high-energy photons (x-rays/ gamma rays) or particles (protons) beams to destroy cancer.
Goals of radiation therapy
Doctors called radiation oncologists oversee radiation therapy. They use this treatment to destroy cancer cells and slow tumor growth, without harming nearby healthy tissue.
Sometimes, doctors recommend radiation therapy as the primary cancer treatment. Other times, patients receive radiation therapy after surgery or chemotherapy. This is called adjuvant therapy. It targets cancer cells remaining after the primary treatment.
When it is not possible to destroy all of the cancer, doctors may use palliative radiation therapy to shrink tumors and relieve symptoms. This may reduce pressure, pain, and other symptoms. The goal is to improve a person's quality of life.
More than half of people with cancer receive some type of radiation therapy. For some cancers, radiation therapy alone is an effective treatment. Other types of cancer respond best to combination treatments. This may include radiation therapy plus surgery, chemotherapy or immunotherapy.
External-beam radiation therapy
This is the most common type of radiation therapy. It delivers radiation from a machine outside the body. And it can treat large areas of the body, if needed.
A machine called a linear accelerator, or linac, creates the radiation beam for x-ray or photon radiation therapy. Special computer software adjusts the beam's size and shape. This helps target the tumor while avoiding healthy tissue near the cancer cells.
Most treatments are given every weekday for several weeks. Form-fitting supports or plastic mesh masks (for radiation therapy to the head, neck, or brain) help patients stay still during treatment.
Treatment Procedure The Added Advantage
Treatment is delivered using Elekta Versa HD, the latest high tech Swedish Bristih linear accelerator. The radiation therapists will position the patient in the same position of CT simulation. Once the patient is set up, the radiation therapists leave the room and continuously monitor patient on CCTV cameras. An image is taken to assess the position of the patient and treatment will commence. The whole process takes 15-20 minutes although the treatment delivery takes only several minutes